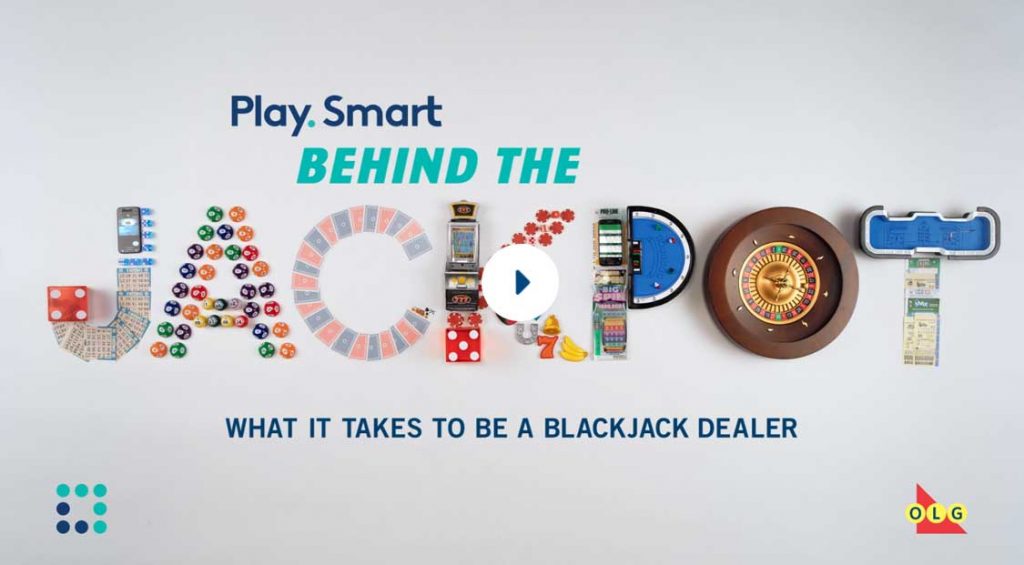 What does it take to be a blackjack dealer? We got a former dealer with over 15 years experience on the gaming floor to explain the ins and outs.
PlaySmart's Behind the Jackpot video series takes you on a deep dive into the games you love to play, getting insights from experts and industry insiders. To help show what a day in the life of a blackjack dealer is like, Zach and Lisa get the low-down from Todd, a former dealer at Ontario casinos to show some of the steps involved to make a blackjack game run smoothly.
If you want to know how to play blackjack, we've got it ready for you on PlaySmart.ca. In Behind the Jackpot, we go even further, putting you into the dealer's shoes to see all the things they must manage while dealing cards. Not only do they use slick shuffling skills to keep the game random, they're also constantly keeping a keen eye out for damaged cards to pull and replace. As if that's not enough, they're also required to regularly show their hands, and tilt the chip stacks they are moving, so that supervisors and security can watch and ensure no chips are being misplaced. This means that dealers are simultaneously shuffling, analyzing cards, communicating with other staff—everything needed to securely run the game—and on top of that, being a friendly host and source of entertainment for a table full of players. There's no doubt that being a Blackjack dealer takes some serious skill and talent—they're multi-tasking masters!
Want more info from gambling insiders? Watch the rest of our Behind the Jackpot series for answers to more questions, like
Why do some lottery numbers win more often?
Is there a "right" way to spin the BIG SPIN wheel?
Is there a perfect time to hit SPIN on a slot machine?