We've all been spending more time at home these days. More time at home means you might be looking for more ways to entertain yourself. You may be listening to podcasts, binge-watching your favourite shows, reading books, playing video games, getting more exercise, cooking, and maybe even online gaming.
Setting up the right gaming environment at home goes a long way towards creating a positive experience when playing online. Here are some tips to help give your home a house edge.
Your House Edge #1: Keep comfortable with the right set up
First thing's first, if you're going to play online, set up a specific room or area in your home to play. Save the couch for movie time, and go with a comfortable chair or any seating arrangement that can help you feel sharp. Playing near a window isn't a bad idea either. A breath of fresh air and some sunlight can go a long way to keep you alert.  Giving yourself a designated space to play is a great way to keep your living space separate from your gaming space, which is helpful for taking breaks. It's a lot like not having a TV in your bedroom to help you sleep better at night. Creating the right environment for our play sessions makes them an even better experience.  Now that you know where you are going to play, it's important to decide when to play.
Your House Edge #2: Set your own hours
The freedom of being able to access an online casino at any time, from the comfort of your home, can lead to more playing time than we may intend. Just like visiting a regular casino, choose specific dates and times that you want to play. Whenever you play, try to strike the right balance of time for playing online. Playing too late or for too long can lead to tired play and worse decision-making. The sharper you are, the more fun your play session will be.
Your House Edge #3: Get equipped for your game  
Your house edge also includes many free tools, how to play tips, and strategies that are at your disposal. For starters, PlaySmart has a wide range of tips and tools tailored specifically to different games. Make your life easier by checking out game strategies and even printing out our Blackjack strategy card. Remember, it's your house rules, so why not set yourself up right.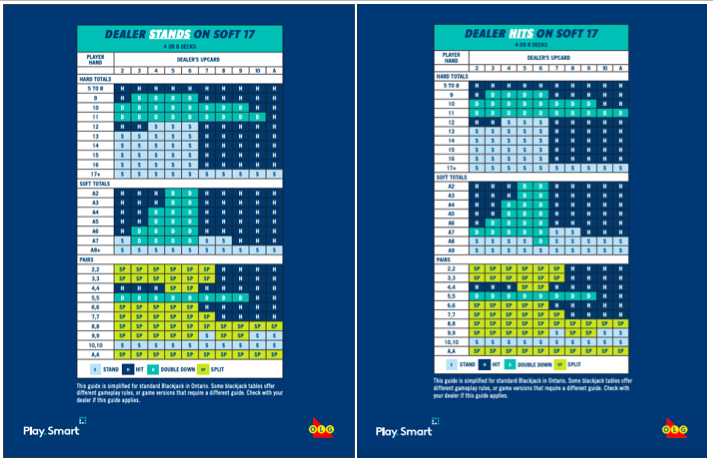 Your House Edge #4: Boost your alertness
One of the biggest perks of playing at home is access to your favourite snacks and refreshments. Grab a coffee, tea or a glass of water, and skip the huge bowl of pasta so that you're not feeling sleepy. Opt for smaller snacks like nuts and fruit that can help keep you alert and make smarter choices. Some online poker players love to crack open a bag of mini carrots. Bottom line: try not to play on an empty stomach or an overly full one.
Your House Edge #5: Take advantage of pre-commitment tools
Money online doesn't quite have the same feeling as cash or chips in your hands. And time can pass very quickly when you're caught up playing on your screen. Many online gambling sites offer pre-commitment tools to help you track your wins, losses, bankroll, and even your time spent playing. PlaySmart has designed a range of tools to help all players get the best experience out of their play. The My PlaySmart Tools on OLG.ca let you customize your time and money settings for how much you want to spend on a given day, week or month. It's an easy way to put many of the gaming tips in this article into practice.
---
These 5 tips can help you make the most out of your online gaming experience, and take advantage of your own house edge. Find out more about our My PlaySmart tools here.